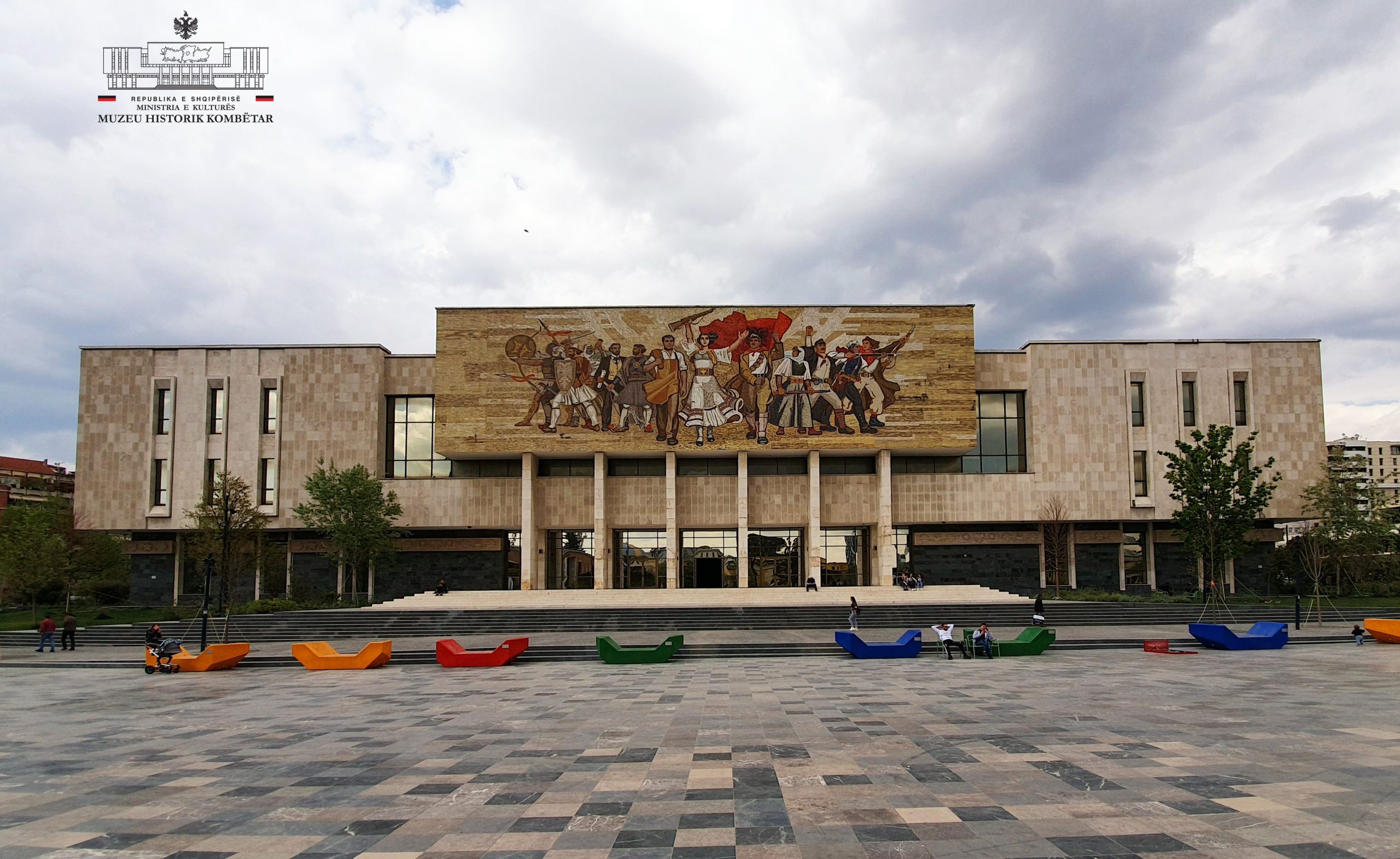 National Historical Museum was inaugurated on October 28, 1981. As the most important museum in Albania, National Historical Museum aims to provide knowledge and appreciation of Albania's history to the local, national and international public. It also aims to encourage dialogue among citizens about the Albanian past, present and future. For this purpose, it preserves and studies material and immaterial evidence of Albania's historical and cultural heritage, which are communicated and introduced in an environment that promotes education. It also organizes and enables activities that support its vision and mission. The building of National Historical Museum has a total area of 27,000 m2; it has an exhibition area of 18,000 m2 and a total volume of 81,000 m3. There are about 6,200 objects in the museum's premises, which belong to a relatively long period of time, beginning back to the IV millennium BC until the second half of the 20th century. There are around 3100 exhibited objects. The rest of the objects are in funds. Currently, the National Historical Museum has seven pavilions: Antiquity, with 585 objects; The Middle Ages, with 217 objects; Iconography, with 90 objects (of which 70 are icons and 20 are liturgical church objects); National Renaissance, with 230 objects; Independence, with 142 objects and so on. A working group was dedicated to the design and content of the National Historical Museum, composed of the best specialists of museology, archaeology, history, ethnography, visual art and restoration. The working group is led by distinguished personalities, such as Gani Strazimiri, Koço Miho, Besim Daja, Skënder Luarasi, Valentina Pistoli, Sami Pashallari, Ilia Papanikolla, Robert Kota, Latif Lazimi, Guri Pani, Maksim Mitrojorgji, Magdalena Furxhiu, Odhise Paskali, Kristaq Rama, Shaban Hadëri, Foto Stamo, Fatmir Haxhiu, Guri Madhi, Ndreçi Plasari, Stefanaq Pollo, Kristo Frashëri, Selim Islami, Kleanthi Dede, Ballkize Haxhihyseni, Taqi Miho and many others. The National Historical Museum is a scientific research institution. In addition to the pavilions, the museum also has archive and laboratory environments, temporary exhibitions halls and conference rooms.
"The National Historical Museum celebrated the 40th anniversary of its inauguration"
On October 28 and 29, the National Historical Museum celebrated the 40th anniversary of its inauguration. This jubilee year was manifested through the International Museum Conference ′′ Museums Renew the Future ′′ and Exhibition ′′ When the National Historical Museum was built ". The International Museum Conference ′′ Museums Renew the Future ", aims to commemorate the 40th anniversary of the inauguration of the National Historical Museum by putting emphasis and importance on various problems and proposals related to the promotion of the national museum network, exchange of professional experience in management, restoration, exposure of museum buildings and promoting constructive debate on history and museums. This two-day conference organized by the National Historical Museum aimed at continuity and deepening co-ops, as well as mutual cultural and historical exchange among historians, museums and cultural heritage researchers aimed at promoting Albanian s' history, museums and heritage.